caspo combines PyASP and CellNOpt to provide an easy to use software for learning Boolean logic models describing the immediate-early response of protein signaling networks.
Given a Prior Knowledge Network (PKN) describing causal interactions (SIF), and a phospho-proteomics dataset (MIDAS), caspo searches for optimal Boolean logic models derived from the PKN, such that the fitness between model predictions and experimental observations is maximized.
The package with instructions for installation and usage can be found in PyPi. Furthermore, you can try it online in Mobyle@GenOuest. Detailed user manuals are available for local (Caspo user manual) and remote (Mobyle user manual) usage.
CellNOpt is used through cellnopt.wrapper for preprocessing the PKN. Further, PyASP is used for solving the optimization enumerating all optimal models. We also exploit the ease of modeling of ASP to compute mutual exclusive/inclusive patterns and equivalences between Boolean logic models.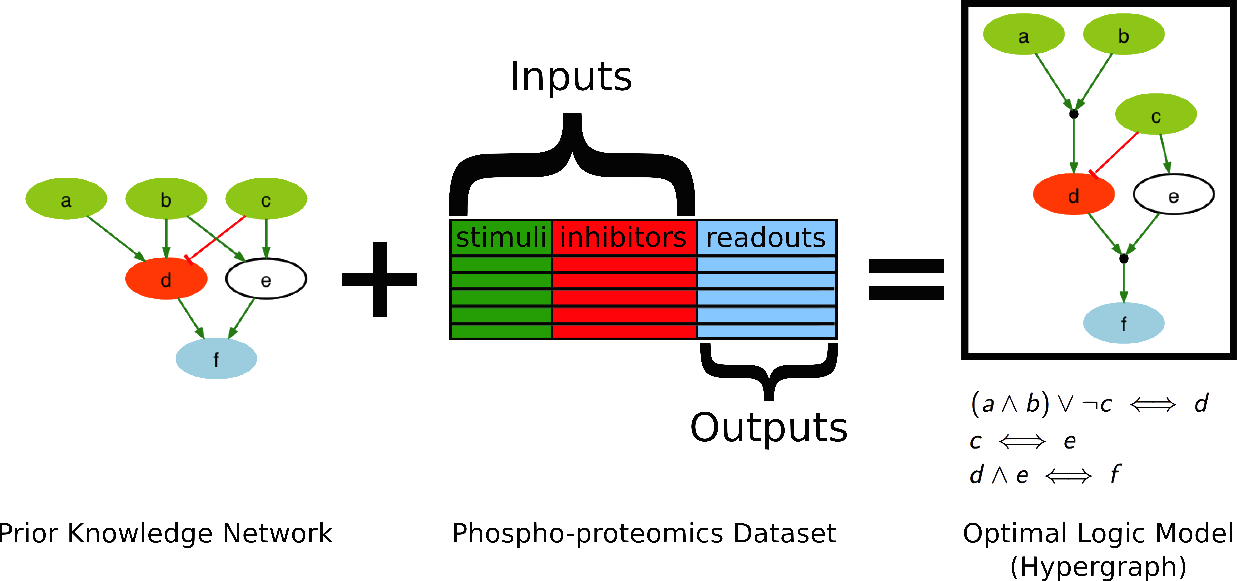 Answer Set Programming (ASP) is a declarative problem solving paradigm from the field of Logic Programming combining several computer science areas such as Knowledge Representation and Reasoning, Artificial Intelligence, Databases, Constraints Satisfaction and Combinatorial Optimization, among other.
As a full declarative paradigm, instead of telling a computer how to solve the problem, with ASP one defines what the problem is and leaves its solution to the solver. ASP solvers offer highly efficient inference engines based on Boolean constraint solving technology and can solve hard combinatorial search problems. They can handle complex preferences and multi-criteria optimization guaranteeing the global optimum by reasoning over the complete space of solutions.
We use the ASP grounder gringo which offers native language constructs for applying the guess and check methodology making the problem representation very intuitive and compact. We also use the solver clasp which has proven to be a highly efficient solver compared to the state-of-the-art ASP and SAT solvers. Both belongs to Potassco, the Potsdam Answer Set Solving Collection.
References: